SOMETHING FOR EVERYONE!
FROM CARDIO TO YOGA TO AQUA AND THE SWIM TIMES, HAVE A LOOK WHAT WE HAVE GOING ON!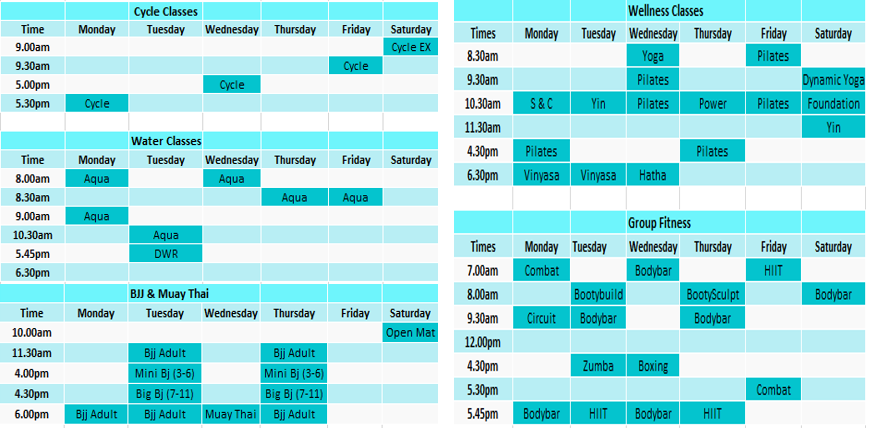 Booty Build
Get the booty you've always wanted in this high intensity weight based training program using large compound exercises to strengthen and increase muscle and tone.
Booty Sculpt
Sculpt, tighten and tone your lower body, focusing  on band, body weight and lightweight exercises.
CT60
Is a high energy full body workout that integrates strength and cardio. No workout is ever the same as you are challenged in every aspect of fitness from slow core training to fast paced plyometrics. Classes are fun, effective and suitable for all fitness levels.
Zumba
You'll forget you're working out with the sexy but simple moves to dance music like Cha Cha, Salsa, Reggaeton, Rumba and more, basically watch and follow. Beginners and students of all fitness levels are welcome, be ready to sweat, move, and shake your booty!
Aqua
An aerobics class all done in our heated pool. Take the impact off your joints, have some fun and get a great cardio workout that's kind on your joints. Flotation belts and noodles provided if needed.
Stretch & Core
Have a full body stretch, lengthen the muscles and tone your core with some abdominal exercises.
Cycle
Take on the terrain through hills, flats, mountain peaks, time trials, and interval training all while staying in the comfort on a stationary bike the cycle studio.
Cycle Tone
30 minutes of cycle and then grab some weights to strengthen and tone your body.
HIIT
HIIT class / High Intensity Interval Training A total body, heart pumping, aerobic and strength conditioning workout. This interval-based class combines full-body strength training with high intensity cardio bursts designed to tone your body, improve your endurance and clear your mind before the busy days get started.
DWR
Deep Water Running is a series of running exercises all done in the deep end of the heated pool split up with some fun exercises with dumbbells and noodles in between laps. Flotation belts provided.
Body Bar
A full body workout. To strengthen, tone and burn fat. By using bars and weight plates you can choose your own weights and work at your own level.
Circuit:
Class is a strength & conditioning session, structured in stations or set up individually with weights or body weight exercises.
Yoga
A Hatha Yoga class focusing on the breath while stretching and strengthening your body and working on your centre with postures and balances.
Power or Dynamic Yoga
The movement is aligned and linked with the breath so that you move with each inhale and exhale. Vinyasa-style yoga classes are ones where there is a dynamic flow from posture to posture. These classes are also often referred to as Flow Yoga or Power Yoga.
Yin or Restorative Yoga
Consists of a series of long-held, passive floor poses that mainly work the lower part of the body - the hips, pelvis, inner thighs, lower spine. These areas are especially rich in connective tissues. The poses are held for up to five minutes, sometimes longer.
Foundation Yoga
Learn the foundations of yoga and explore body alignment and deep breathing while developing strength, flexibility, and balance. This class is designed for the brand new student, yet experienced students may attend to reinforce the basics.
BoxFit
Boxing for fitness and fun! Grab a partner and some boxing gloves and focus mitts, learn some combinations and put them together for a high intense cardio workout.
Pilates
A method of strengthening, lengthening and stretching the whole body. Improve your strength, flexibility and posture.
Cardio MMA
Mixed Martial Arts Cardio Workout to burn fat and boost your strength and endurance.